Whilst on a camping trip to Keswick we took the opportunity to visit Hadrian's Wall and the Birdoswald Roman Fort. The trip was a request of my daughter after one of her school reading books referred to Hadrian's Wall. It's such a significant feature of British history, but I've never actually visited it before.
One of the most significant remaining lengths of Hadrian's Wall is around the area of Birdoswald Roman Fort. When we visited the wall, the weather was pretty bad so we didn't spend much time exploring the wall and instead concentrated on visiting the fort and visitors centre.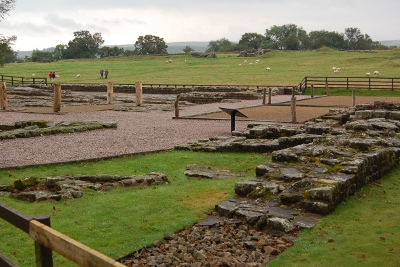 There is a car parking charge at the car park near Birdoswald Roman Fort, but this is refunded from the admission fee if visiting the fort.
At the fort there is an indoor visitors centre which includes a video with interactive map, and some exhibits. Most of these were interactive exhibits, with a few glass cases of Roman finds.
Most of the foundations of the Roman Fort are visible, although some are now under the road (including one of the main gates) or under the farm building which is now a YHA youth hostel.
I certainly learned a lot from my visit and from reading the guide book that we bought. Considering that the Roman occupation was such a long and significant event in British history I knew relatively little about it and about what was such a vast undertaking.
As well as the history of the use of the fort during the Roman occupation there is some details of how it was used after then and the building of the farm. There was also a small art exhibition when we visited.
Due to the weather we only spent a couple of hours at the fort and wall, but I'm sure it would be nice to spend more time on a sunny day. Instead we visited the Ullswater Steamers in the afternoon and the weather had improved by then.